Working at Future Diagnostics
"My work is always innovative and interesting. I'm great here!"
It took some time for his friends and family to understand exactly what his job entails. And yes, there are still some people who think he spends his whole day behind a microscope. But senior development technician Jasper Holewijn (35) is now taking that for granted. 'It is a difficult subject; therefore it is also difficult to explain exactly what we do at Future Diagnostics. Sometimes that's a shame, because it's something you're really excited about. But luckily, we have a very nice team of professionals with whom you can talk and share your thoughts with. Like-minded people who are also involved in the matter. And people like me, who love a challenge."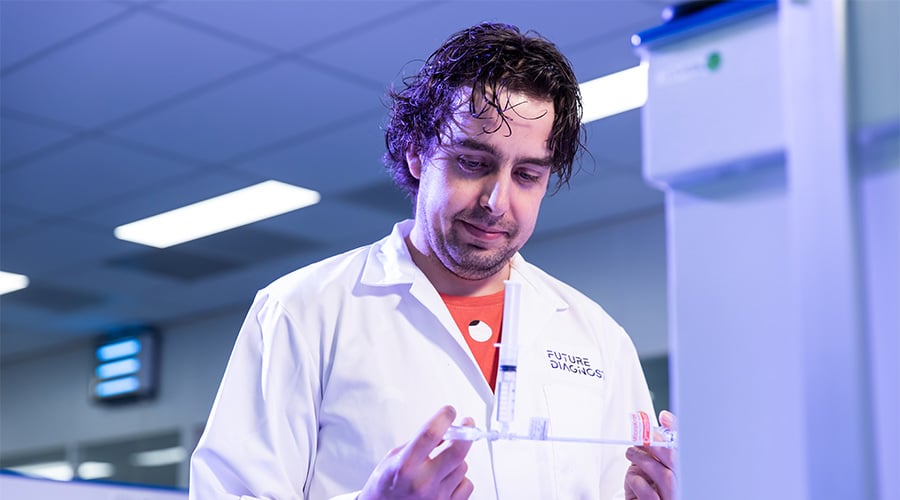 He had just passed the age of 25 when − with a bachelor's degree in biology and medical laboratory research in his pocket, he knocked on the door of Future Diagnostics. There was an interesting vacancy there, for a position in which people would always work towards actual end products. "During my internships, I had only done research. Developing something that could also be marketed was a world within my field that I didn't know well yet. And that appealed to me. Just like the alternation between different projects and the never-ending learning", says Jasper. And so, he packed his things and left Groningen for Nijmegen. "I have not regretted that for a moment", he looks back now, about 8 years later. "I'm great here!" 
Duties and Responsibilities
Jasper fills his days behind the doors of Future Diagnostics with a wide and diverse variety of tasks. "I develop tests for medical diagnostics in order to be able to determine diseases better and faster. I think along and contribute to its development by performing sample tests in the lab, among other things." In addition, the maintenance of some of the machines is part of his portfolio. "I keep them running and I am the first point of contact if repairs are needed. For example, if the temperature registration systems of our refrigerators or freezers signal that the temperatures are outside the specifications, I engage the right people." He also has a lot of contact with clients, follows training courses to learn to use new devices and takes on a guiding role if necessary. Not to mention his work as a works council member and emergency response officer. 
Well-filled weeks for the volleyball enthusiast, husband and father of 2. "I have regular office work to do. By means of working days, I ensure that all documentation regarding materials, instruments and results remains in order. The files are then sent to colleagues for a quality check. That keeps us sharp." He continues: "But most of the time I'm doing studies. Not from behind a microscope, but in the laboratory." He chuckles briefly. "When people ask me if I hang over a microscope all day, I just say 'yes' these days. While they are actually used not so often and more so for a collection of dust."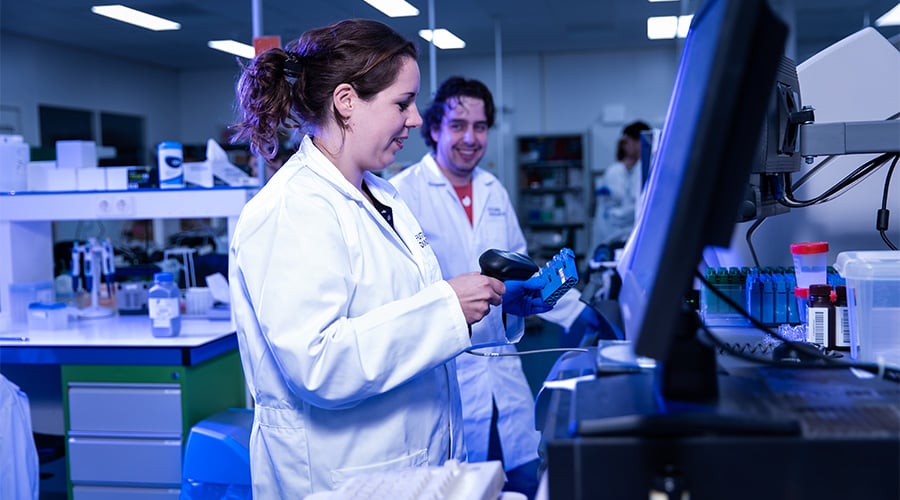 Energy from new challenges
On which days does Jasper go to work whistling? "When I know that I'm going to face a day full of new things. And that happens quite often, because at Future Diagnostics you regularly change projects, techniques, devices and teams. I get a challenge from new projects, to helping colleagues and being able to do as many different things as possible. So actually you won't make me happy if you put me on one project for 2 years." The senior development technician also wants to come up with solutions. "I experienced doing 20 tests in 1 assay. Usually this does not work and you have to build up slowly, but here it was a hit in one go. It was nice to experience, but it is also a challenge to investigate why some things do not work. If it were so easy, everyone would have done it by now." 
There are moments when he wonders why he chose this profession again. "For example, if I'm working on a device that doesn't want to work. Fortunately, those moments are rare. And well, there is also a form of challenge in that…" 
Services
The working conditions and company culture
Jasper especially finds the variety, flexible working hours and the atmosphere within the Future walls a great advantage of working for the market leader in Wijchen. "The work is always innovative and interesting. For example, I am now working on a project that requires a complete renovation. A special system was even installed to allow air to be extracted, and additional fireproof cabinets had to be installed. While the period before that I was busy with something completely different." 
He also feels at home within the Future Diagnostics family. "It is a special group of people together. Quite young and very ambitious and driven, but without posturing behavior. And everyone likes a good atmosphere. That was the case when I first came here for an interview, and it still is. It makes it easy to take an extra step; you want to help each other back and forth."
A view on the future
In about 8 years, Jasper rose from development technician to one of the seniors in the group. He did some courses here and there, but mainly mastered the trade on the shop floor; with his feet in the clay. "At first you do the easy jobs and you watch with others. But you are immediately seen as a full-fledged part of the team. You learn the most from that." 
In the future, he still envisions a career as a development expert within Future. More in contact with clients, directing, and thinking along in terms of planning. "But at the moment I'm still completely in my place. However, as an expert you are a little less hands-on in the laboratory and honestly, I would miss that too much for now. Future music, but never say never! 
As Future Diagnostics continues to grow, new features like Jasper's are regularly released.
Are you interested in such a varied, challenging and specialist job? Then keep an eye on our vacancy page or send us your motivation and CV. And who knows, you might soon run into Jasper in the corridors.
Vacancies