Multiplex Micro-Array Services
Detect multiple analytes or biomarkers at the same time; it can help in many situations.  A combination of data often provides more information in comparison to when only one analyte is measured, since the parallel analysis of multiple issues provides more certainty about a particular disease or condition. The development of multiplex micro-array tests is one of the services we offer. It is a highly specialized process that requires the right people, processes and materials.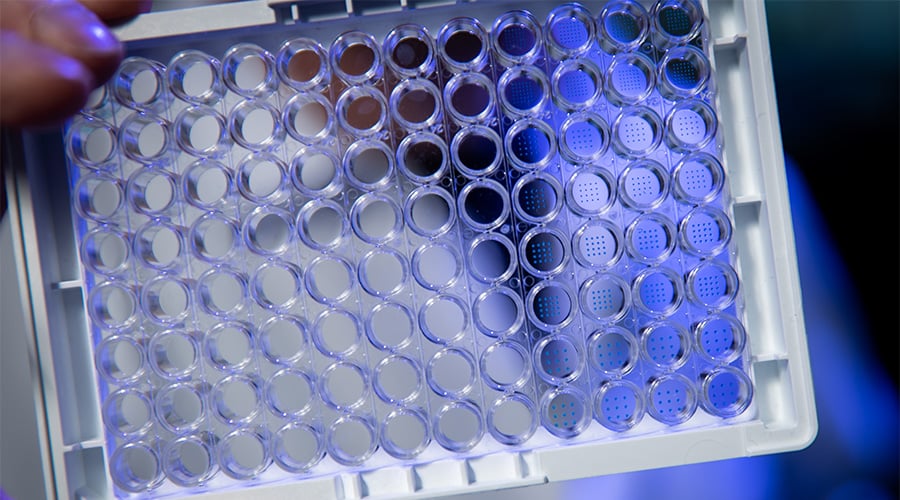 Whether you're looking for a way to determine multiple markers in a sample at the same time, or want to make a selection for the best capture arms or bindings molecules for your marker; a multiplex micro array test is the way to go. Why do ten expensive tests if you can do it all at once? There are several ways to set up a multiplex assay. Future Diagnostics has experience with multiple multiplex methods and is particularly adept at developing multiplex micro-array assays. With a multiplex assay you can simultaneously search for tens or hundreds of different substances through a collection of microscopic spots on a surface. From instance, from allergens, infectious diseases and autoimmune diseases, for example. This saves a lot of time and saves on valuable samples and expensive raw materials.
Our sciFLEXARRAYER S12 system for optimal multiplex micro-array test development
At Future Diagnostics we work with the sciFLEXARRAYER S12 system. An automated, non-contact, position-dependent and piezo-powered dispensing system for your capture molecules or assay components to ultimately detect your analyte/biomarker of interest, whether they are nucleotides, antibodies and antigens. After all, if you deal with these kinds of development processes on a daily basis and want to excel at what you do, then only the best and most accurate systems are good enough. And we like a challenge.
With a specially developed spray block system, micro-arrays are not troubled by unwanted liquid flows, contamination and cross-contamination. These are problems of the past. Furthermore, quality controlled production also ensures robust results. In this way we can give our clients what they expect from us; highly efficiently developed tests that meet their predefined wishes.
How we work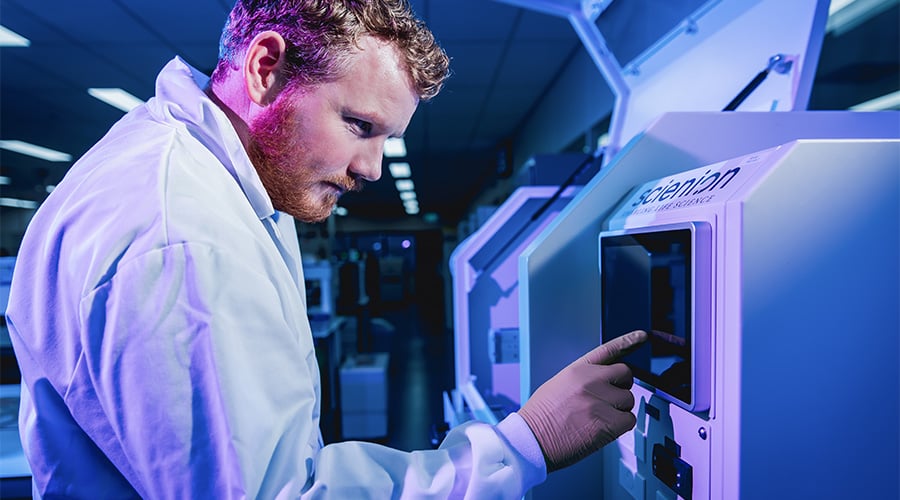 Small volumes on the micro-arrays, but with great possibilities
The microarray process can be followed by means of advanced cameras and software. Identification points on the microarray ensure that everything ends up in the right place. And because of the position dependence, the device knows exactly which droplet is where. The device – not much bigger than a kitchen table – can make about 1,000 tests in one go.
Do you need more than that? With volume sizes from picoliters to microliters, the possibilities for your multiplex test are endless. In addition to making microarrays, this equipment and technology can of course also be used for printing on microchips, microsensors or lab-on-a-chip, to make surfaces reactive for biomarkers or analytes.
Future Diagnostics; your partner in multiplex micro-array test development
Multiplex assays developed by us are already used in various ways. By the pharmaceutical industry, among others, as an companion diagnostics to screen materials and conditions. With the multiplex technique, medical diagnoses can also be established on information about several biomarkers at the same time. In the case of heart problems and infectious diseases, for example. Many of our multiplex tests now form the basis for medical decisions in the field.
Are you considering having a multiplex test developed by us?
You can always contact us for advice and more information about the possibilities. We are also happy to answer any questions about multiplex micro-arrays or the microarray printer. We like to talk about what our passion is. So don't hesitate to contact us!
Contact us