Lyophilization
To dramatically extend the shelf life of diagnostic assay components, it is wise to use lyophilization, a proven method that is also known as "freeze drying." This process extracts water from the product to be assayed by freezing it, reducing the pressure, and removing the resulting ice via sublimation. The freeze-dried products can then be easily stored, shipped, and reconstituted with no compromise in efficacy.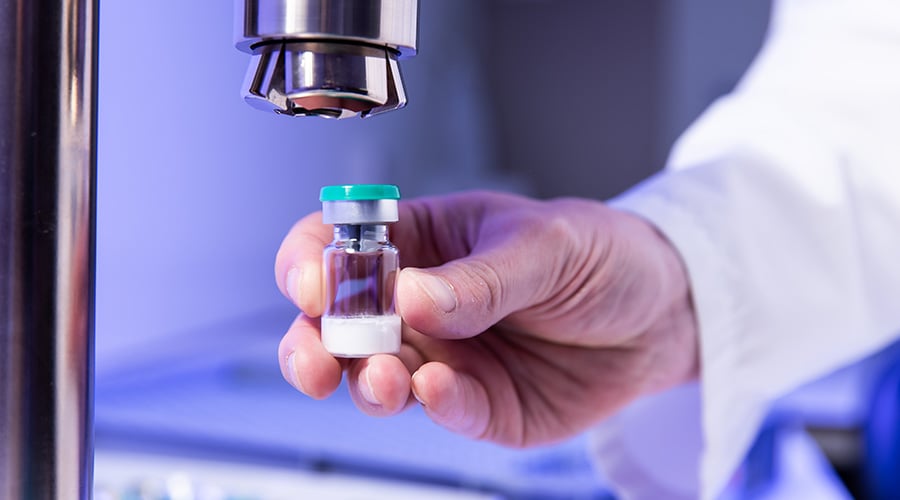 Applying this technique has its challenges, though. Achieving the best possible result — and an optimal final product —­­ requires in-depth knowledge of biomaterials and of the lyophilization process, among other skills. In fact, each application of lyophilization demands a different approach. The correct one depends on the matrix type, the type of molecule or biomolecule, the physical properties of the container, and even the freeze-drying equipment. All these aspects play a role in achieving the optimal lyophilization conditions. These conditions, in turn, lead to a product with maximum bioactivity, which has a long shelf life and meets aesthetic needs.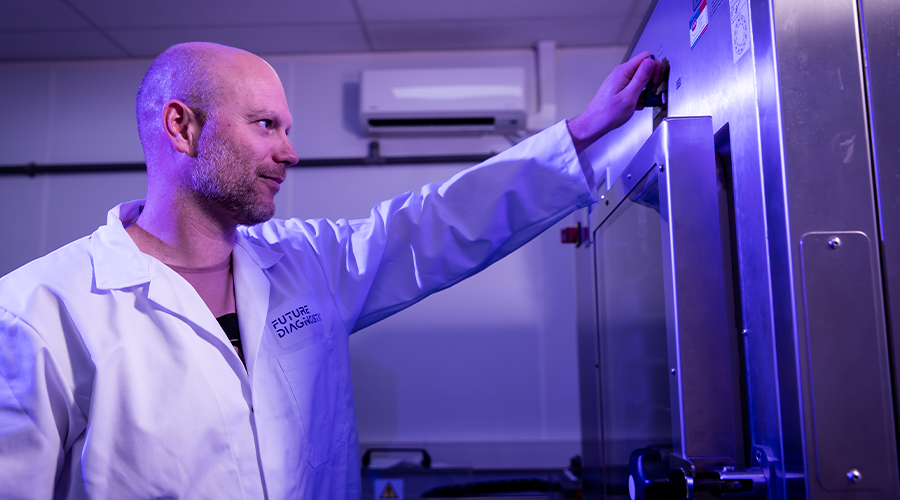 Why conduct lyophilization through Future Diagnostics?
Developing an optimal lyophilization cycle is costly, so it is important to map out a process that is robust and reproducible. Future Diagnostics identifies the appropriate process parameters for various assay components. We also have years of in-house knowledge about optimizing the freezing conditions, freezing step duration, pressure, as well as primary and secondary drying conditions.
Our clients are assured of the commitment of a dedicated team that provides customized services on every job. The result is a unique lyophilization process and, as needed, a tailor-made lyophilization matrix/buffer that is fully suited to our clients' criteria and available facilities.
Our years of experience have led to the development of unique lyophilized products such as buffers, enzymes, antibodies, conjugates, calibrators and even magnetic particles, as well as our proprietary accuspheres . Our production capacity of 1.5 m2 allows us to produce entire batches of diagnostic assay components for our clients on demand.
Our service
Are you interested in freeze-drying a diagnostic assay component? If so, we would be happy to help support the development and/or optimization of your lyophilization cycle. We are fully aware of the possibilities and limitations of lyophilization, and we can quickly switch approaches as needed.
The first step is to jointly determine the requirements, criteria, and available components. Then we start the development and/or optimization of the lyophilization process that we deem most suitable for the specific assay components. Based on small pilot batches, our lyophilization experts develop a final lyophilization process. They then optimize this process, always keeping in mind the assignment and your needs. Once the lyophilization process is optimized and meets the set specifications, production begins and can be scaled up.
Want to know more about our freeze-drying service?
Feel free to contact us. We'd be happy to discuss this process with you in more detail and answer any questions you may have.
Contact