Bead Coating Services
Coating beads with antibodies or antigens is an important step that drives the performance of many immunoassays — a common technique used to detect and quantify various analytes. Bead-coating is widely performed; protein-bead interaction, for example, is thoroughly described in the literature. However, multiple molecules and biomolecules (such as proteins) from patient samples can non-specifically bind to beads regardless of the type of bead. In qualitative assays, this may severely impact the clinical sensitivity and specificity. In quantitative assays, it may affect the analytical sensitivity.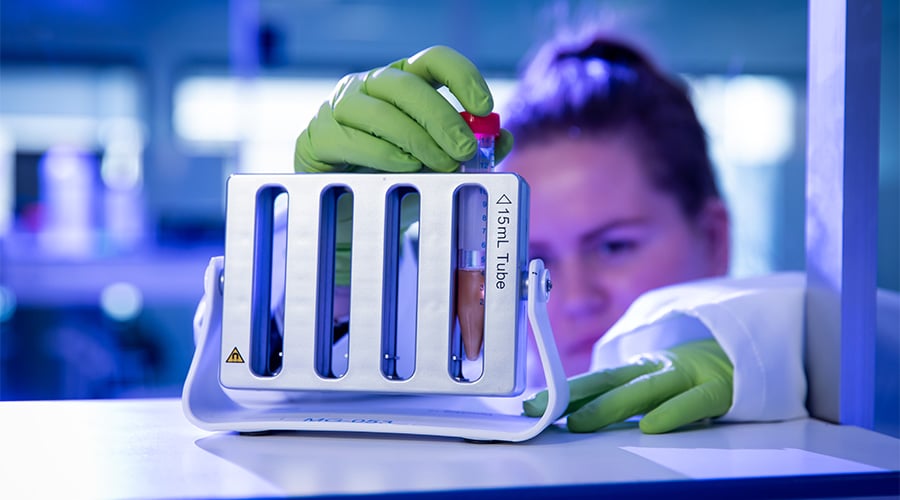 Although generic protocols for coating proteins to various types of beads can easily be found in the literature or on vendors' websites, the procedure often must be optimized for your specific assay and material. Optimizing and altering the coating procedure can significantly reduce the non-specific binding of interfering molecules. This is often needed to ensure an immunoassay provides the desired sensitivity and specificity. Although performing bead coating is easy, coating a functional bead in a reproducible way that ensures assay specifications are consistently met requires specific expertise.
Why bead-coating through Future Diagnostics?
Future Diagnostics has over 25 years of experience in the development of immunoassays involving magnetic beads and magnetic bead coatings. We have been able to successfully develop bead-coating processes by diminishing non-specific binding in numerous bead-coating projects for our customers.
We collaborate with many leading companies in the IVD world whose interests include cardiac, endocrinology, and infectious diseases, among others. Within these collaborations, we have gained broad experience with different bead types. This includes beads with different activation groups (COOH, Tosyl, NH2, and others), of varied sizes (ranging from 100nm – 3000nm), and of different (magnetic) types.
Additionally, Future Diagnostics has experience in using beads in several types of systems, such as automated clinical analyzers and point-of-care systems. These systems have specific characteristics, and each system requires its own optimized bead-coating procedure. To give just one example: In some point-of-care systems, beads are presented in a dry state. This provides years of stability but also the challenge to maintain the functionality and dispersity of the beads upon dissolving. This dry state has unique features and differs from systems where diluted samples or buffer environments can be used. Our broad and extensive experience makes Future Diagnostics a unique partner in the development of your coated beads.
Our service
Several bead types are used in bead-based immunoassays, and bead characteristics play an important role in their selection. The interaction between the biofunctionalized bead and the sample and how to deal with non-specific binding is just one of the expertises that Future Diagnostics has acquired during our years of assay development. We provide protocol optimization based on multiple factors specific to each project — bead type, the protein or peptide to be coated, and the final in-assay use of the bead. To increase overall performance, we ensure that the antibody or antigen is delivered to the specific type of activated beads in a conformation that provides the best activity for the protein of interest. Detailed analyses of the protein by PAGE and IEF, and purification steps via chromatography, provide a good starting point to indicate what could be expected from the raw materials. Based on this and our years of expertise, a set of reagents is composed that best fits the protein of interest and diminishes protein interactions in a patient sample with the functionalized bead.
Do you want to optimize your bead-coating process? Are you experiencing challenges with the development of assays related to a specific binding? Or do you want to explore the possibilities of your system? Our dedicated staff is eager to share their expertise with you. We at Future Diagnostics are happy to help.
Feel free to contact us for more information
At Future Diagnostics, you will experience a new way of working with an ambitious and extremely open team (no standalone unit) who focuses on solving your issues together with you.
Contact us